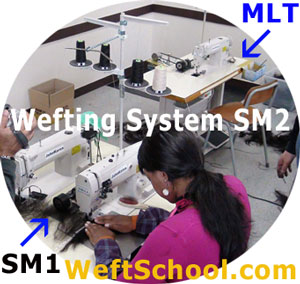 <> Wefting System-SM2 <>
=
composed of
CW432-2H
& CW431-MLT, 2 machines
[ 3 or 5 Times of Stitching & 2 Times of Hair (Weft) Folding & 1 Time of Gluing (Bonding) ]
= Output (Productivity) : 2 Meters per Minute
.
= Wefting System-SM2 is made up of (1) CW432-2H and (2) CW431-MLT
=Wefts made with Ssystem-SM1(CW432-2H) can be changed to become VERY FINE WEFTS with CW431-MLT.
= The productivity is less than CW433-3H (System-PRO1), but the quality can be the same, and what is more, you can make variery to the wefts using CW431-MLT rather than CW433-3H.
= It is possible to make wefts in various thickness and hair-density to be suitable for making various wefts and accessory-hairpieces
= It is possible to make (diversify) the space(width) of wefted or stitched area narrower or wider for putting pr attaching Clips, Glue, adhesive tapes, etc
For more information, please see the web age for CW431-MLT of the Wefting System-EZ.